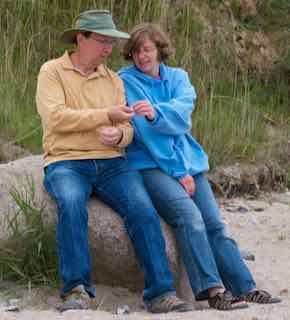 Knowledge Junkies is a website that can show you what the two of us, Mark and Antje, are curious about. Maybe you'll get inspired to ask questions about our projects (contact us!) or find answers to your own. More on the Big Idea
We're not sure at all that inspiring you to pursue questions of your own by example works, but it has worked for us—inside our own fields and far beyond. And we love teaching as much as we love learning, so this website is a way to keep learning and keep teaching. More on Teaching by Learning
We made Knowledge Junkies together, as an umbrella site for a range of projects and ideas, and created it from scratch in HTML, CSS, and minimal JavaScript, using our own design ideas and photos. (Antje takes special pride in having designed our logo and icon!) More on Building This Site
We love to see where our interests and areas of knowledge overlap and where we can expand our own horizons. So it's not surprising the project actually started with our joint travel blogs after we first met in 2011. More on Where It All Started
But wait—is this anything but a kitchen sink, a glorified Linked-In page by two privileged, self-indulgent people who have the leisure time to make a site like this, never mind that there is no audience for it? Well, that's for you to decide… but we hope not. More on Defending the Project
Our "What's Newest?" button. Think of this as our "Today I Learned…" and "I was today days old …" spot and check out our recent discoveries or brainchildren here. Sometimes also just a fun photo or someone's wise aphorism. More on What's Newest
The Big Idea
We are both academics and experienced, passionate college teachers (Mark teaches Electrical Engineering, Antje used to teach English and is hoping to one day teach Art History, English, or maybe even German again). But we are also just intensely curious people, trying to ask questions when we see something unfamiliar or need more information. We believe that this kind of curiosity is important. Not just because human beings have the capacity to be life-long learners or because it is entangled with creativity, problem-solving, and taking more joy in our surroundings. But also because we hope it can be a way to work against what we both see as a worrisome trend of so many people becoming both close-minded and what we might call fact-resistant. So there is something very directly political about this project, which on its surface isn't political at all. It's about the importance of being open to learning new things and of probing, doubting, fact-checking, figuring out what is REALLY "fake news" and how we can limit (or even avoid) bias in what information we access. Can we encourage that by example, by showing how we follow these principles when we explore the world?
Teaching by Learning
We don't have any hard evidence for the idea that websites can be that sort of inspiration (we'd love your feedback on what this site is doing for you). But it is what we are going for because asking questions and being curious has worked for us--a strategy that has, in fact, made us the knowledge junkies we are, and, we think, has made us open to learning new things and also to changing our own minds based on new information. Most of this has happened inside our fields. We have each spent many hours doing research in our respective fields, seeking to understand things, weighing evidence, in our respective disciplines. (We've also tried to do other fields justice, although we know that the lack of insider expertise limits us.) And we have both spent many classroom hours trying to foster critical and creative thinking in our students, because we deeply believe that it is vital to think critically and creatively, to know what constitutes good evidence and a solid argument, and to know why this is important. We know that these are hard things to learn and even harder things to apply more broadly than just in one area of knowledge or another. But we try to do that, too, because so much of our learning happens "in the wild," outside of our fields: as we read the news, listen to podcasts, talk to friends and strangers, study up on things, see new parts of the world. So we are trying to practice what we preach--to keep learning and seeking reliable information, and sharing the results on this website, for anyone curious to see.
Building This Site Together
From the portal or homepage we built, you can explore a number of different projects and ideas we have developed separately or together in the past ten years. Mark has actually had a webpage for much longer than that. He has played with web servers and home networks for many years (which figures, because he is an engineer and programmer; you can find out more about this on his "about page"). Antje, who was always just an "end user" when it came to the internet, vaguely remembers being taught how to build a primitive website in grad school, ca. 1993, and peeking into AOL chatrooms, but did not try to have any sort of a web presence until Facebook came along. But she has picked up some basic web development and programming skills in her classes, and we actually talk about the principles of coding and computers (if not the complicated details!). Knowledge Junkies made us meet in the middle, because Antje has built the website with simple HTML and CSS tools (and a little JavaScript), rather than using pre-packaged software while Mark has the background to make sure we can maintain the site and tweak it when operating system updates come along. It was very important to both of us to find an open-source, open-access way to do create our site, rather than working with or creating proprietary material. And if your are curious about how to build a site like this (as opposed to what's on it), let us know. We'll share what we've figured out and how to keep the costs low.
Where It All Started
As a joint project, this all started in 2012. When we became a couple and began to take extensive trips together, we wanted to give friends and family a way to read up on our travels and see the pictures Mark took. Antje has always kept travel journals, and turning them into blogs with photographs allowed a few friends to follow along; Mark's simple website was a handy spot to collect them. In the meantime, Mark was starting to think about making more of his work --share bits of helpful code, videos that show some of the things he has been working on to help his students to work on tech things remotely during the pandemic, and some of his photographs. And Antje wanted to collect the projects that began to proliferate once she went back to grad school and started taking classes in digital humanities (which basically explores all the MANY different ways in which humanities fields like her own, literature and art, can work with methods developed in computer science and data science). So the question was how to best pool them and make them accessible to other curious people--and also, importantly, how to think about them as connected.
Defending the Project
Granted, in some ways this site is a hodgepodge. There isn't much that links the display of a Geiger counter's measurements or a video about how to make an oscilloscope out of an Arduino on Mark's page to Antje's maps of Victorian itineraries through Italy, or stories about well-known and unknown works of art. But we actually do talk to each other about what we are exploring all the time—whether it's Mark explaining to Antje how a piece of code works or showing her a video of a new robot design, or Antje giving Mark a mini lecture on how a 19th-century landscape painter would have painted the banks of the Platte River. So in that respect, the kitchen-sinky feel of the site reflects the way our conversations and our minds work as we think about what makes us curious. So we invite you to click on something that you find interesting and just see what's there. Maybe you'll find something fun to explore.
Also granted, there is a bit of a "show what you can do, show what you know well" self-absorption and maybe even bragging going on here. Mostly with Antje, who is currently freelancing and sometimes does need to show off what she can do to potential employers. And unlike Mark, who tends to be extremely self-deprecating about his many talents and areas of expertise (and can actually fix i-phone screens and broken toasters), she isn't at all modest about what she's good at. (She happens to think that women shouldn't downplay their accomplishments). But some of the projects and blogs you find here actually reflect on our privilege as academics and as people who can afford to travel--and also on our ability to work on this site, which we do know is a luxury, a leisure time activity. But there are worse things we could have started working on while cooped up during a time of social distancing—and let's just say it one more time: if you are curious about finding a low-cost way to build a website from scratch for your pandemic project, we'd be glad to tell you what we've learned. Maybe there is not much benefit to society in this project, but we do hope there's no harm in it, either.
What's Newest?
We included this because, knowledge junkies that we are, on any given day, we might end up down some completely random research rabbit holes that leads us to ideas that have nothing to do with anything, based on things we read on-line, hear on a podcast, or see on our walks. We try to fact-check what we find--trying to figure out the statistics behind a new study, look up a weird-looking plant species, and often, we learn something completely new. We decided that it is too bad so many of these ideas just float away as the days pass and we move on. We are aiming for updates (complete with date and a resource link) when one of us discovers some thought-provoking new fact or idea and finds enough time to reflect or talk back to it in some way.